matches
GFA - Al Wahda FC

VS

GFA - Al Wahda FC
Al Whada – GFA 4 – 1
The first half we started of great and had a few big chances one on one with the goalkeeper but we didn't convert.
This resulted in a fast counter of Al Whada and a 1-0 at the first half break.
The 2nd half we were not as good as the first half and let them score a few more unfortunately.
However we showed again that we were able to compete and a lot of boys showed their qualities infant of scouts en clubs.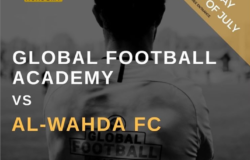 Good to know
Always stay up-to-date
Here at GFA we will do our utmost to give you all the opportunities to show yourself in front of clubs and scouts! Among our many services are access to excellent training facilities (were we hold daily training sessions) and access to certified coaches with experience on the highest level.
Sign up now!