RESUME
Have you ever dreamed of training like a professional football player?

VS

FC Emmen U19 - GFA Deventer City
After one week in our camp we played a match against FC Emmen U19. There first team just promoted to the First League in Holland and we were allowed to play in there stadium and it was an exciting match!
It was great to see that all the hard work payed off in this game. It ended in a 1-3 victory for us and Andre Ochoa was man of the match.
Great to see there were multiple scouts attending our match.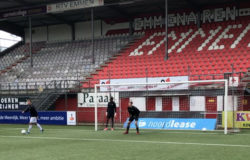 Good to know
Always stay up-to-date
Here at GFA we will do our utmost to give you all the same opportunities as these great players had, if not more. Among our many services are access to excellent training facilities (were we hold daily training sessions) and access to certified coaches with experience on the highest level.
Sign up now